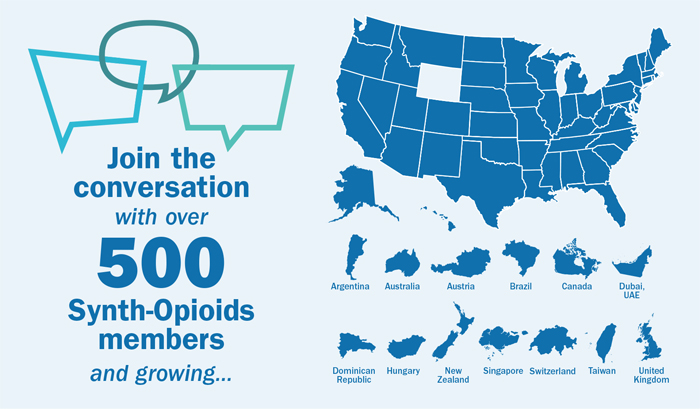 Synth-Opioids is bringing together Federal, State, local, and private sectors and facilitating communication among the areas of forensic chemistry, toxicology, pathology, jurisprudence, research, public health, and law enforcement. Synth-Opioids is designed to create opportunities for swift information exchange and permanent, searchable storage of important discussions that happen between the forensic community and relevant stakeholders.
An account is required to access this resource. Please create an account or log in to continue.
The new communication platform provides

rapid dissemination of information;
reports on emerging drug trends and unknown substances (for public and law enforcement use);
searchable and permanent storage of information, organized by category;
sharing of data and methodologies to address analytical challenges and facilitate prompt detection and identification of emerging psychoactive substances;
sharing of information on novel forms of drug submissions; and
opportunities for scientific forensic surveys to gather information quickly.
NFLIS began in September 1997 as a systematic data collection of drug chemistry analysis results from local, State, and Federal forensic laboratories. Since its inception in August 2017, Synth-Opioids has been bridging multiple disciplines and jurisdictions in forensic science to enable rapid sharing of information related to emerging psychoactive substances.
With this partnership, NFLIS and Synth-Opioids will continue to strengthen and expand the power of collective scientific knowledge. By facilitating sharing of scientific data to assist in detecting and identifying unknown synthetic substances and opioids, DEA is expanding the Nation's collective scientific expertise and breaking silos of information, not only across the Nation, but also globally.
Real-time Communication Network